Hello everyone!
​
We hope this newsletter finds you enjoying the summer season, with longer and warmer days, star-filled nights, and days filled with new adventures and travels. Now that David and I are vaccinated, we have been enjoying the sense of normalcy again. I know it's been a while since we sent out a newsletter, and that's because we've been on the move, working, creating, and photographing!
​
We just returned from six beautiful weeks in Yellowstone and Grand Teton National Park. It's no secret that northwest Wyoming is one of our favorite areas, and we were very fortunate to be able to spend an extended stay there. After three years of extended trips, research, and miles of hikes and drives, we have put everything we learned into an e-book to help others navigate and photograph this vast wilderness of a park. Both David and I have over fifteen years of exploring and photographing this park under our belts, and we're so excited to release this book later this year! My deep admiration of this park started fifteen years ago on a geology mapping trip for my last year of college. I fell in love with the landscape, the thermal features, and America's first National Park. Keep reading below for more details!
​
While in Yellowstone, we had a fantastic range of different weather conditions to photograph. The park gave us a warm welcome back; we enjoyed everything from ten inches of snow, colder mornings filled with fog, stormy days with rainbows, and warm, clear summer days. This range of conditions allowed us to shoot a bit of everything and explore new weather opportunities with familiar scenes. After a few weeks of photographing and exploring Yellowstone, we headed south to Grand Teton National Park to teach our first workshop in sixteen months. We had a wonderful group of students, and we were treated to a wide range of conditions. It felt so nice to be back teaching in a place we love and to interact with people again. It was also nice to disconnect for a few weeks and focus on connecting with nature again. After last year, we've learned not to take these experiences for granted, so we had a much deeper appreciation for the simple things that nature has to offer.
​
We have been working on our workshop schedule for next year and have received many inquiries into our offerings. We are still working out some details, but we have a few new locations and collaborations coming next year that we are excited to share! Make sure you're subscribed to receive those as they are announced. We do have one last-minute opening on our Moab night photography workshop at the end of summer. Next January, we are also excited and gearing up for Out of Chicago's, Out of Death Valley! Even though it's still summer, we're already dreaming about heading back to magical Death Valley. There are still spaces available for this conference! Keep reading below for details on this and the Moab workshop.
​
Speaking of Death Valley, I released a new gallery of Death Valley imagery at the end of February. We spent three weeks there this winter and had one of the most photographically engaging trips there yet. David also released his new website along with a new gallery of Intimate Fall Landscapes, keep reading for the links.
​
We hope you can get back out to travel and photograph a bit this summer and wish you a wonderful July!
​
Jennifer and David
---
Coming Soon - Our Yellowstone Photo Guide
We have been hard at work learning all the intricacies of Yellowstone National Park and will soon be releasing Yellowstone: Land of Living Art, A Photographic Guide to Yellowstone later this year. We have fallen in love with Yellowstone and we are very excited to share our favorite locations and how we photograph them
​
Click the image below to be notified when we release the ebook!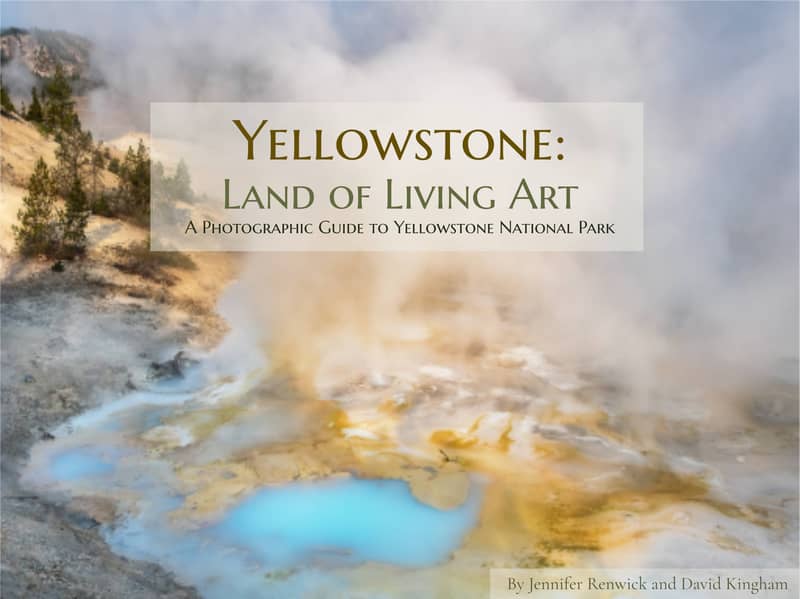 ​
Jennifer's New Gallery Release - Death Valley
Jennifer released a stunning new gallery from our extended visit to Death Valley this past winter. It's filled with a lovely variety of subjects along with writings about each photo. You can see/read more here Death Valley National Park: Winter 2021.
​
​
​
David's New Gallery Release - Intimate Fall Landscapes
I (David) switched my website over to Wide Range Galleries recently after falling in love with the platform while working on Jennifer's site. I still have a long ways to go to get it completely finished, but it is up now! The new site will better reflect my current vision rather than a grab bag of old photos, this is why you won't see many images up just yet. My first release is a collection of Intimate Fall Landscape images from the past few years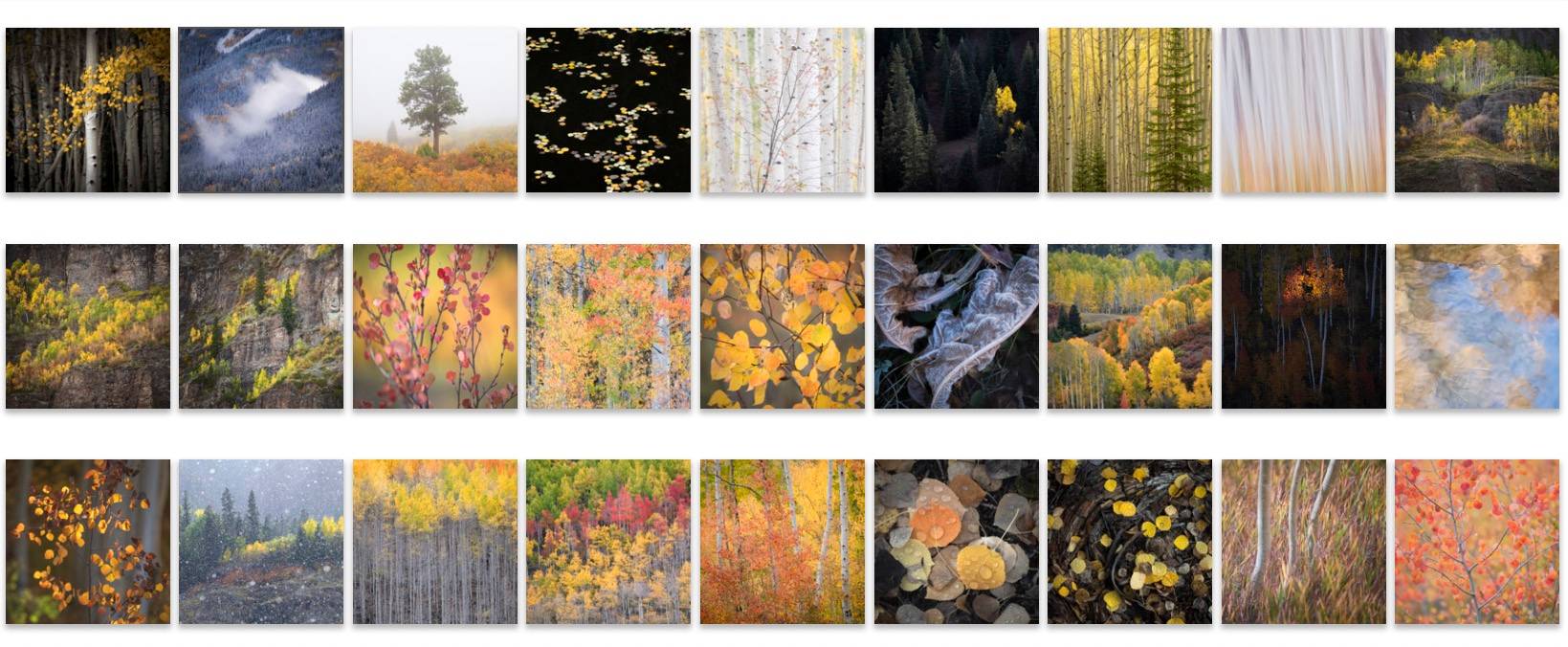 Workshop Openings
We just had a cancelation for our Moab Night Photography Workshop in August, get it while it's hot!
There are still a few openings for our Grand Tetons Workshop in June of 2022.
Other than that we are all sold out! We are still working on some new workshops for 2022, the logistics have been a bit of challenge but we are working through them to give you the best experience possible.
​
Join us for the Out of Death Valley Conference
Next year we are both teaching alongside some of our favorite photographers at Out of Death Valley. It is an immersive, 5-day landscape photography conference taking place January 26th-30th, 2022 at Death Valley National Park. Death Valley is one of our favorite places to photograph and we're looking forward to sharing with you why it inspires us. Learn more and register at outofchicago.com.
​
Receive $250 off when you register for Out of Death Valley and use the code KINGHAMDV22 or RENWICKDV22. Don't wait, this offer expires July 16th, 2021.
​
Articles, etc. you may enjoy
​What Makes a Compelling Landscape Photograph? by Alex Burke
​Get Out of a Creative Rut and Reignite Your Creativity by Mikko Lagerstedt
​New Black and White Plant Photos from Sarah Marino
---
A Little Help For Our Friends
We strongly believe that the nature photography community should be supportive to one another. We can all lift each other up rather than being competitive. In this next section you will find some valuable resources from other photographers that we believe in and are great friends as well.
​
The Nature of Yosemite - A Visual Journey
Rob Hirsch has released a stunning coffee table book for Yosemite National Park: The Nature of Yosemite - A Visual Journey. The images are printed with great attention to detail, and did I mention they are beautiful? Rob shares a story with each photo and breaks down the park by different subjects. If you love Yosemite or just need some inspiration, this should be on your coffee table. Note: The hardcover sold out quickly, but the publisher is doing another run that will be available at the end of August.
​
Refining Composition - Video by Eric Bennett
Eric has released the first part of his Essential Theory video series and it goes beyond education, it's an experience. Here's the testimonial I wrote for him: "I've been bored to tears by other materials on composition, but this video is truly engaging. The way Eric explains complex ideas in a simple manner really helps to make it all click. There is a lot of content to consume, but Eric keeps it interesting with behind the scenes videos and photo examples. The amount of work put into this is phenomenal and one of the best on the market, well worth the investment!"
​
Guide to Acadia National Park
If you're thinking about going to Acadia this is a must have book! Our friend Colleen Miniuk has finished the second edition of her wonderful photography guide and you can preorder it at photoacadia.com, it will be shipping at the end of July!
​
Web Sharp Pro Panel
Greg Benz has released a brand new panel for Photoshop that is specifically geared for getting the best sharpening for web imaginable. Plus it is loaded with features that will make your life a lot easier if you post a lot to social media. If you're frustrated by Instagram's 4:5 limit on portrait photos this is a life saver. It can automatically add a border with a color or a blurred out version of your photo, so you don't lose your original composition. Brilliant piece of software that is well worth the price. Get the Web Sharp Pro Panel.
---
David's Culling Process in Lightroom
Do you ever get back from a photography trip and feel completely overwhelmed by the amount of photos you took? Where do you even start? Between all the different compositions, different light on the same subject, then focus stacks, exposure blends...do you just want to give up?? I'll give you some tips that may help you get through this nightmare!
Turn on the Caps Lock key - wait, what? This sounds silly but it's actually a key part of speeding up the process. When you have this turned on, Lightroom automatically advances to the next photo when you give a star rating, flag, or color label. It's a simple little thing that really helps when dealing with a lot of photos.

Take a quick first pass of all the photos - I have four options to keep things simple: If an image is complete garbage (out of focus for example) I will reject it by hitting the X key. This sets the reject flag and will make it easy to delete later, no need to slow things down by deleting at this point. The other option is a star rating, but I don't use 1-5, only 3-5. Do you really need to be so granular in your ratings? Whether it's a 1,2, or 3 is probably not relevant, they're not great images and you don't need to give them that much thought. I give a 3 if the image is not that great but I don't want to delete it. I give it a 4 if it's something fairly good that I may process one day or I'm just undecided about. I will only give a 5 to something I know I absolutely want to process right away, this is the cream of the crop that I will come back to very soon.

Once you're done with the first pass you can delete those rejects, simply hit CMD + Del or CMD + Backspace, when the next dialog comes up be sure to select Delete from disk, not remove from catalog. Done!

Now it's time to review the best images and do some quick edits. You can use the filter feature in Lightroom to show only 4 or 5 star images. I like to take another run through and see if I missed any great images in the 4 stars. I will do some basic processing along the way to see if any images rise up with some adjustments, if so, I'll give them a 5 star. During this process I will also group any focus stacks, panos, or exposure blends into stacks. Simply select the images and hit Ctrl/CMD + G to group them into a stack. These stacks can now be collapsed for organization.

Now it's time to actually edit! This typically happens on a different day when I'm in a more creative mindset. The beauty now is I can filter by 5 star images and I'm ready to go, there's nothing to think about what I want to process and I can stay in a creative state.
This sounds like a long, complicated process, but it's actually quite simple and effective once you get used to it. If you don't have a ton of images to work through then it probably doesn't make sense, but if have a lot of images to sort through you may want to give this a try.
​
Until next month,
David and Jennifer
​
​Click here to opt-out of our newsletter but remaining on our mailing list.​