Autumn Greetings!
​
We hope this newsletter finds you enjoying the fruits of fall and you've been able to get out and have a productive photographic season. This year, the colors in Colorado were one of the best we've seen in recent years. We've heard similar stories from other areas of the country, so we hope everyone has been able to enjoy fall, whether in a park or your backyard!
​
We've stayed pretty busy since our last newsletter. After waiting on truck repairs in August, we were able to borrow my father's truck (thanks, Dad!) to hit the road and not cancel workshops due to our unexpected auto repairs. We headed to Moab, Utah, for our two night photography workshops. We had two wonderful groups and spent the nights under the stars photographing the red rock landscape under the cover of the night. Due to the wildfires in the west, we had a few nights of smoky skies, but it didn't keep everyone from experiencing good night photography! (You can view some of our clients' work below!) In between the workshops, David and I headed out for some much-needed time in the desert. We took a few day trips near the San Rafael Swell to investigate some slot canyons. Along the way, thanks to the monsoon flooding during August, we encountered some beautiful mud treasure troves for some abstract photography. We spent a few hours photographing mud (yep, we love mud!) There were so many colors, textures, and patterns. (David just released a gallery of his mud photos from this experience, see below!)
​
After Moab, we drove back for a few weeks in Denver. There, we were able to pick up our truck after two months of stressful repairs. We spent most of our time in Denver working, and we were excited to participate in Out of Chicago's new show, "Out of Focus" (watch the replay.) While in Denver, we taught a fall colors webinar, and thank you to everyone that joined us for that! We received a lot of great feedback, and it's been fun seeing everyone's fall images that they photographed after listening to the webinar.
​
We then loaded up the truck and trailer for one and half months on the road, photographing fall colors. Unfortunately, the first night in Ridgway, Colorado, I began experiencing vertigo. Fast forward a few days, and I learned an inner ear infection was the culprit behind this uncomfortable feeling. I was treated with some antibiotics and steroids, which healed the ear infection right up, but unfortunately, the vertigo took three and a half weeks to go away. The vertigo made my fall very dizzy, nauseous, and at times quite miserable. One positive side to this? Since my photography is representational to my life, it inspired a new project that I will release soon. I experimented with a lot of ICM (intentional camera movement) to accurately depict what my autumn felt like to me. (You can see the image that sparked my upcoming project below, and stay tuned for the entire collection!) Despite the vertigo, we had a fantastic fall colors workshop in Colorado. We had an enthusiastic group, and we were treated to an assortment of excellent weather conditions. This year, the colors in Colorado were some of the best David and I have seen in many years. We had a spectacular dusting of snow on the San Juan mountains to accompany the foliage's golds, oranges, and reds. (Scroll below to see some of the photos our clients captured!)
After the workshop, we drove down to southern Utah to catch the fall colors and arrive in Zion National Park, where we are right now, gearing up for our Zion Narrows workshop next week!
​
November will be a busy month, I'll be teaching at a few online photography conferences and giving presentations for camera clubs. In the coming weeks we will be announcing two new webinars, David will be talking about Night Photography Processing and Jennifer will be speaking about Slow Photography, stay tuned for this announcement!
​
Until next time, happy shooting!
Jennifer and David
---
New Mud Collection from the Desert Southwest
The desert always surprises us with its gifts. This year in Utah we were exploring an area we had been many time before seeking out oils, but mother nature had something else in mind. Massive floods wiped away the oils we had photographed in the past which was a bit sad, but we were also presented with fresh mud that we photographed for several days. You can view the entire gallery of new images on my website.
NiSi V7 Filter Holder and True Color CPL Review
NiSi has released a new filter holder that is fantastic improvement along with a brand new circular polarizer that has no color cast. Check out my review here.
Layers, Luminosity Masks, and Sky Selection in Lightroom??
You read that right! In the latest version of Lightroom that was released this week Adobe has finally given us the ability to create layers, layer masks, select the sky with AI, and create luminosity masks and color masks. This is very exciting news and opens up many possibilities for processing without the need for Photoshop in most scenarios. Greg Benz has a great blog post covering all the new features. I will be releasing a set of presets that gives you luminosity masks in Lightroom very soon! Click here to be notified of when these are released.
Jennifer's Interview on the Outdoor Photography Podcast
Support the Photography Community!
Our friends have been releasing a litany of wonderful material that you'll want to check out, any of these are well worth the price.
New Yellowstone eBook from Sarah Marino
Our friend Sarah Marino has released a new portfolio ebook from Yellowstone National Park that is filled with incredible images and personal essays that are inspiring. I found myself riveted and finished reading the book in one sitting. Jennifer and I are currently writing a guidebook to Yellowstone and it's hard for us to be surprised by new and inspiring images from this park, but Sarah has shown a depth and variety we have not seen before. If you're looking for some inspiration, look no further.
Tools Of The Trade: Vol. 4 Video by Eric Bennett
Eric has released the fourth volume in his Tools of the Trade video series. In this video he goes into advanced Photoshop subjects like Focal Length Blending, Burning and Dodging, Cloning, and I found the section on Enhancing Atmosphere quite eye opening! These are not videos for beginners, but for those that want to take their Photoshop skills to the next level.
Creativity Superpowers eBook by Alister Benn
Alister released a fantastic book today called Creativity Superpowers. This book is for any photographer that feels they are a bit lost and feel burdened by rules in photography. Alister goes over subjects such as "composition by feel", questioning the rule of thirds, psychology of visual design, and much more. This is a must read if you want to go beyond creating copies of popular compositions of grand landscapes and instead find your creative voice.
Another Day Not Wasted by Guy Tal
Our friend Guy never fails to inspire with his wonderful books. In his new book Another Day Not Wasted: Meditations on Photography, Art, and Wilderness Guy helps us understand why we want to create great photographs. He inspires us to not waste our lifes and do what it is we are meant to do. A highly recommend read for any creative.
Client Photos from Recent Workshops
We had some incredibly talented clients join us for our last three workshops in Moab and Colorado, here are a selection of images they created during our time together.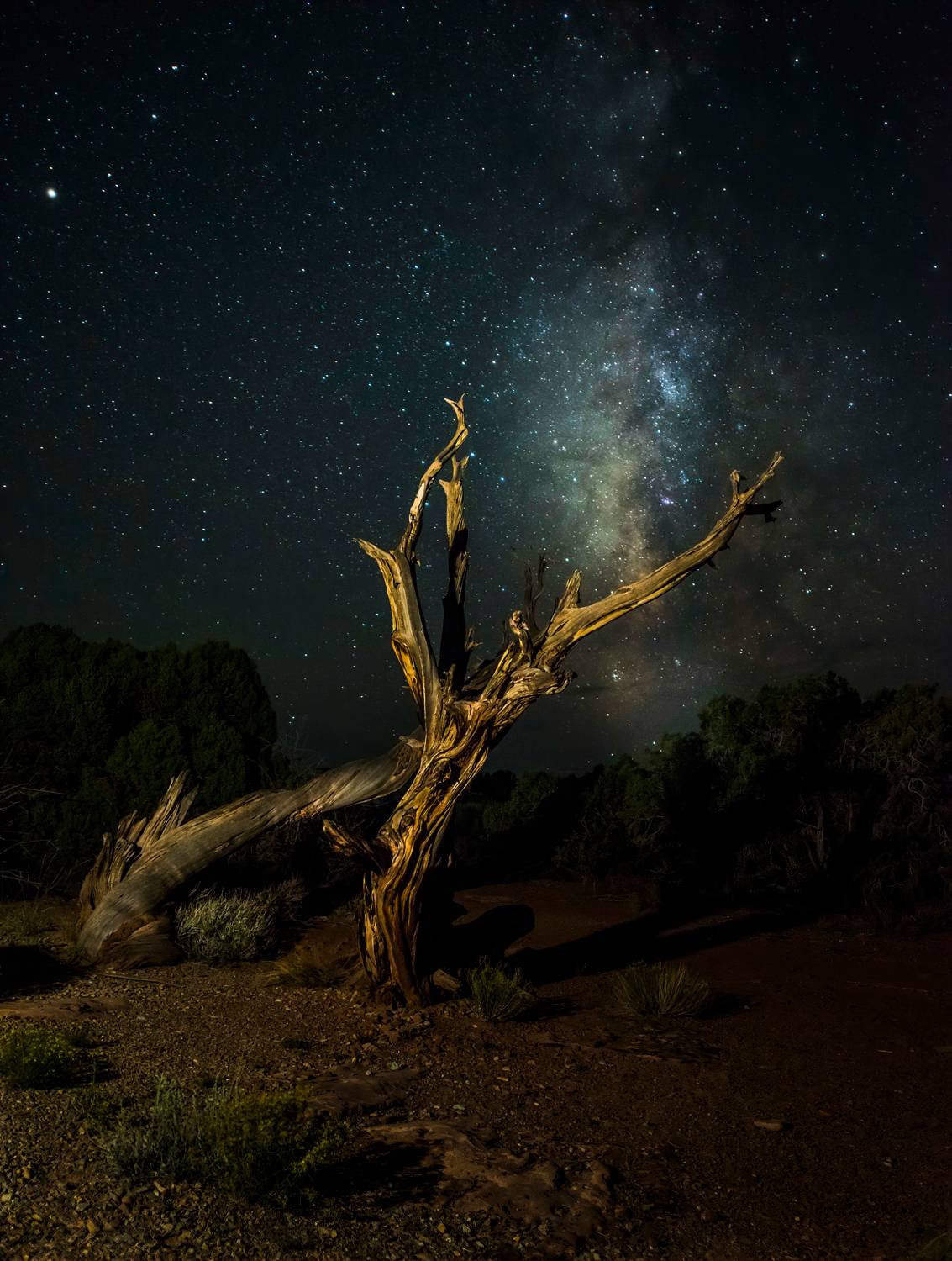 ​
View even more client photos!
​
Until next month,
David and Jennifer
​
​Click here to opt-out of our newsletter but remaining on our mailing list.​